Roofing Angier since 1991.
Learn more about our Angier office, and the roof repairs and roof replacements we've done in your neighborhood.
WE'VE WORKED NEARBY
On Tops has completed projects in:
| | |
| --- | --- |
| - Adams Point | - Johnson's Landing |
| - Cabin Grove | - Neills Creek Farms |
| - Crosslink | - Whetstone |
| - Fairground Pointe | - Fairview |
Angier Roof Replacements and Repairs
Whether you're in need of a quick leak repair or a full roof replacement, On Tops Roofing is here to do the job right. We've been the leading roofing contractor in Angier for many years and have worked with thousands of homeowners to solve their roofing problems.
On Tops has completed roof replacements, roof repairs, and other roofing services in Angier, North Carolina for over 30 years.
As the areas around Raleigh have boomed, Angier has maintained its small-town look and feel. That's one of the reasons we love being here. We located our office and training facility in Angier and have served thousands of homeowners throughout Harnett County.
Are you unsure if you need a simple repair or a full replacement? Schedule an inspection using the form to the right and we'll evaluate your roof's condition. Our team is dedicated to solving your issues right the first time. If you need a repair, we won't try to sell you on a replacement.
Our Most Recent Angier Roof Replacement Projects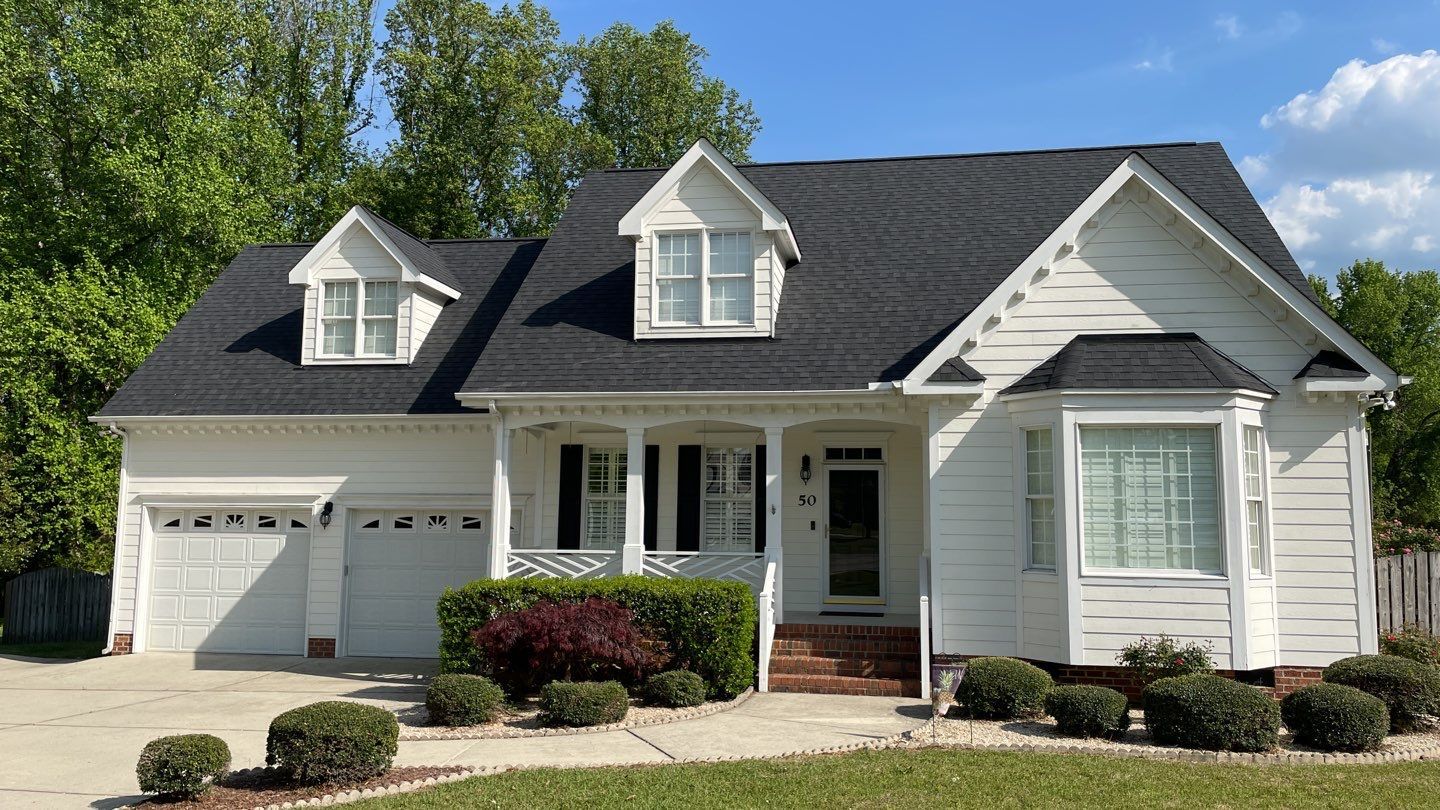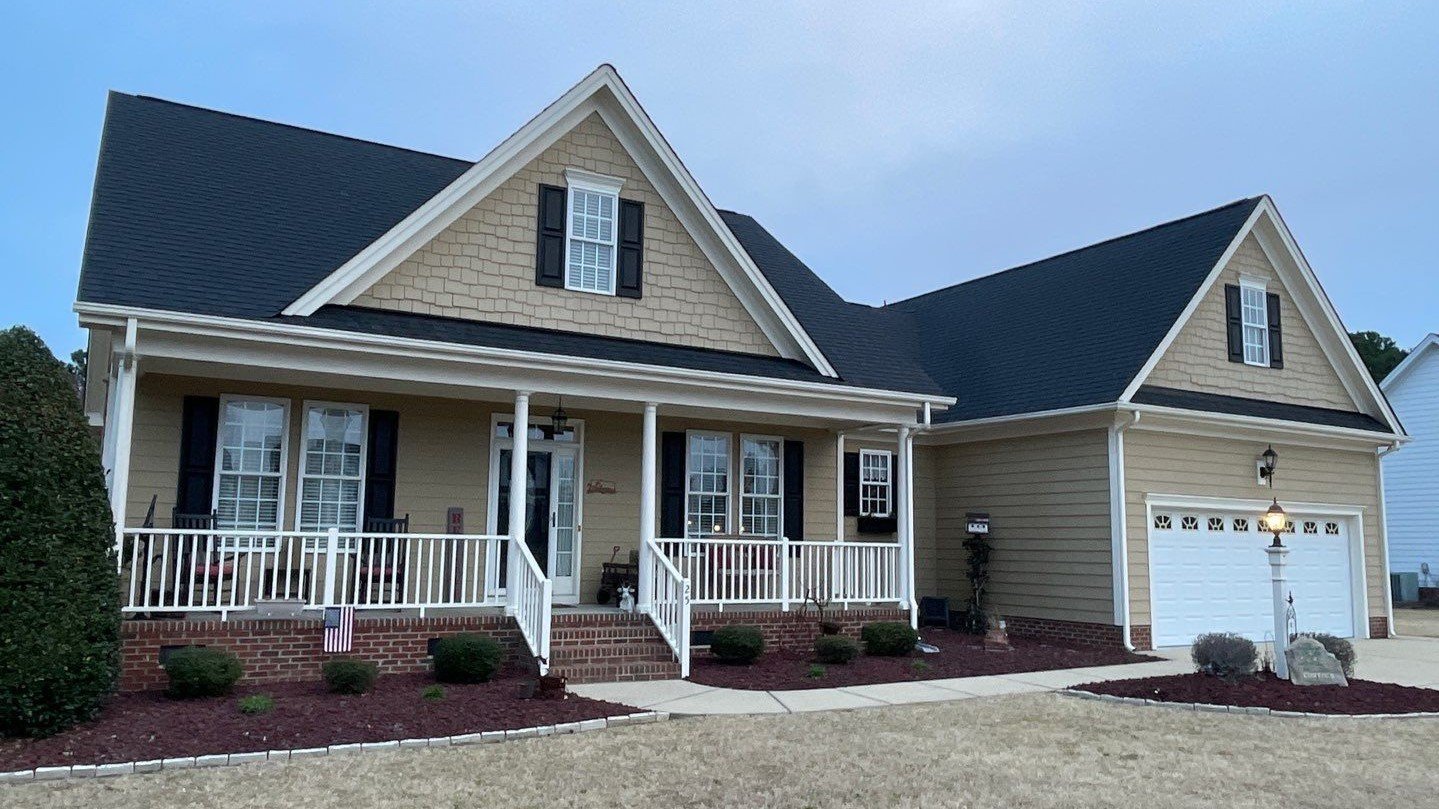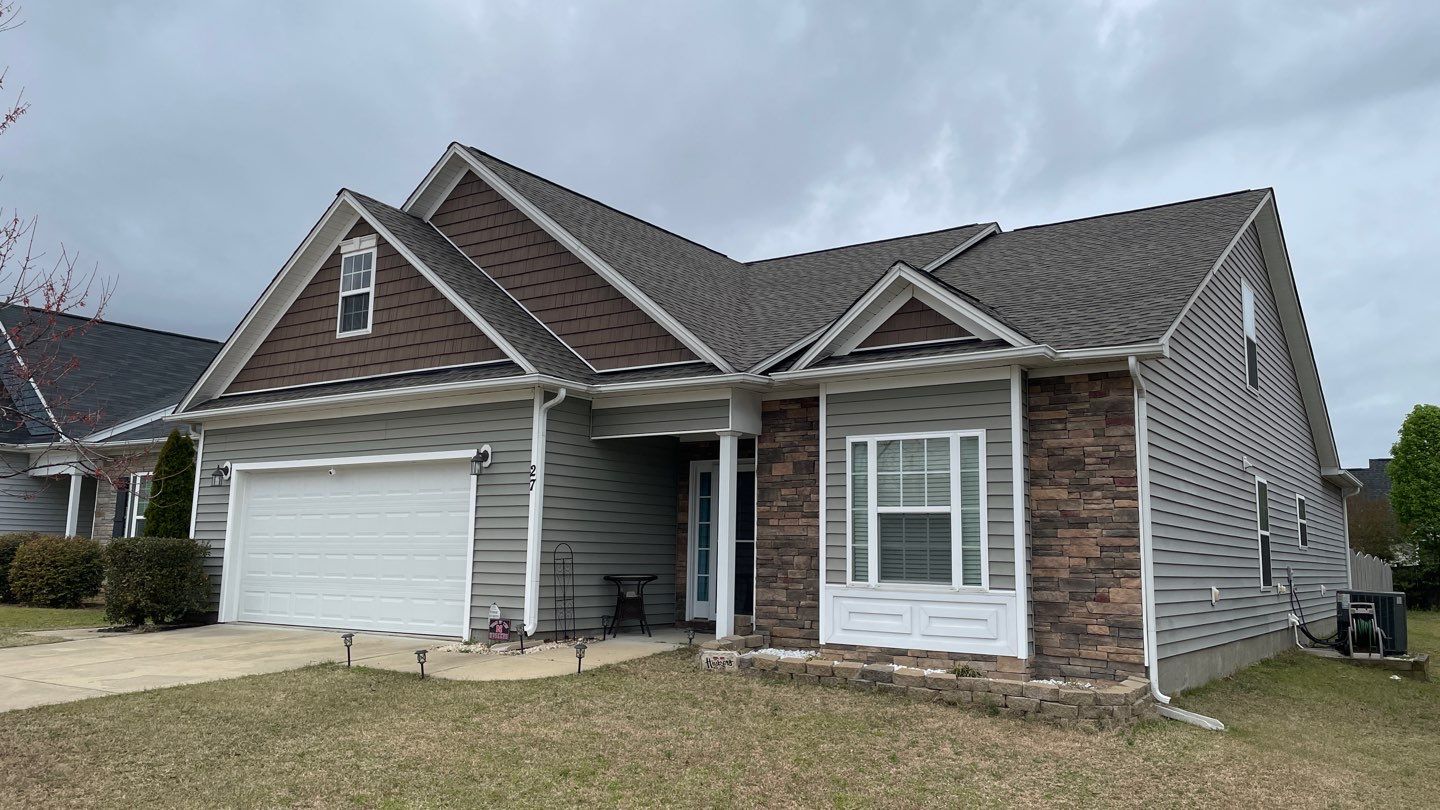 Meet Jonathan Kennedy
Jonathan is a North Carolina native, and On Tops Roofing's Area Sales Manager for roof replacements and roof repairs in Angier.
Jonathan received his degree in construction management from ECU. He and his wife Rachel live in Clayton with their two children, Kate and Griffin. Jonathan is an active member of his church, and enjoys fishing, hunting, and time with family.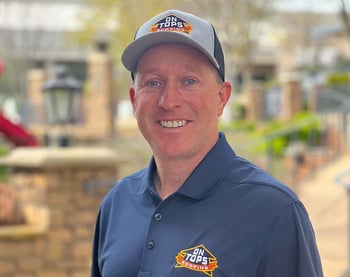 Roofing Services We Offer in Angier, NC
Angier Roof Replacement
Are you experiencing a leak, storm damage, or shingle cracking/buckling on your home in Angier? These are signs you might need a roof replacement. Our highly-trained Angier roofing specialists are here to make sure a replacement is the right choice and can recommend the best roofing system for your situation. Your new roof will come with the latest technology and a warranty, ensuring it protects your home for many years.
Our experience installing high quality residential roofs in Angier spans 30 years. Whether you want a metal roof or a traditional asphalt shingle roof, we have you covered. Our highly trained project managers will make sure your roofing project gets done correctly, and on-time.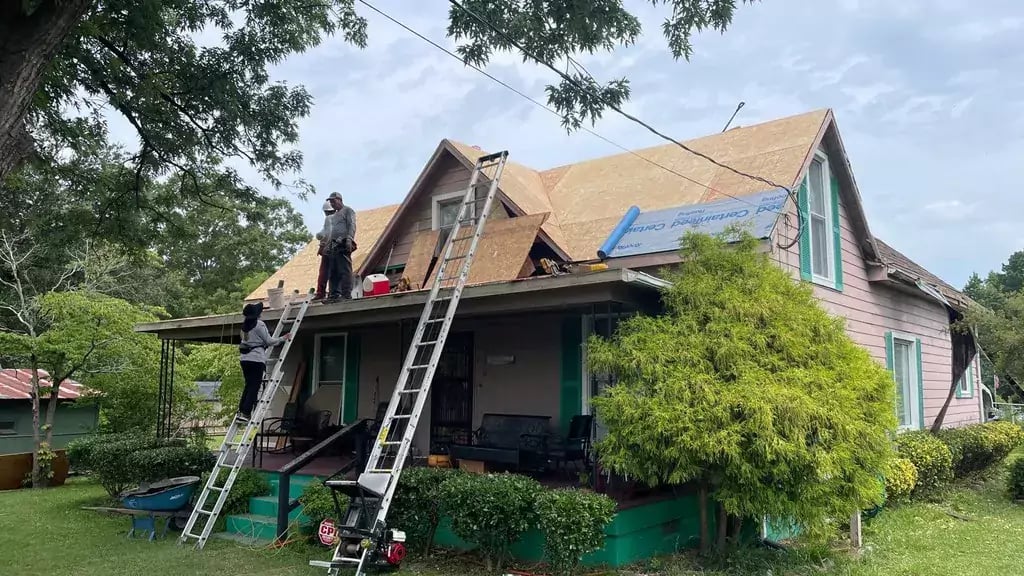 Angier Roof Repair
Does your roof in Angier have a small leak or an area of blown off shingles? In many cases a simple roof repair can fix your problems, especially if your roof is fairly new. Our team of highly-trained roofing specialists will come out and assess your roof to identify current and potential problems.
Once we discuss the best solution with you, we'll perform a repair that fixes the issue and prevents further damage. Our team has decades of experience working with Angier homeowners to identify and solve roof leaks. You can be certain we'll fix the issue the right way and for a great price.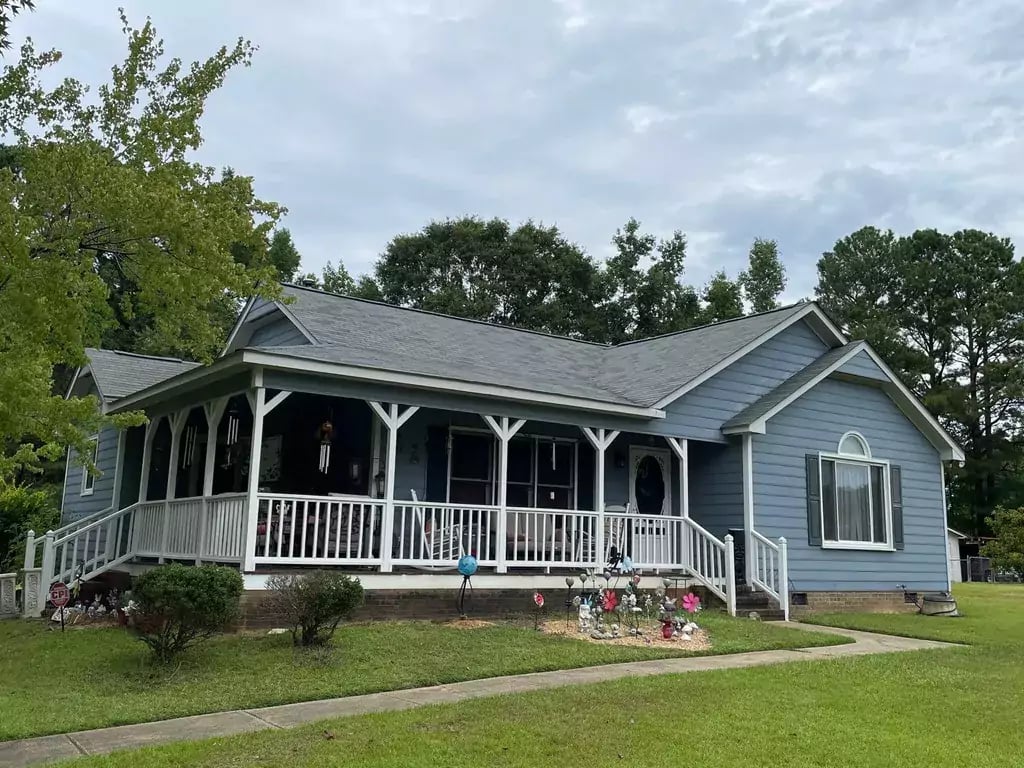 Angier Roof Inspection
Not sure if you need a replacement or a repair? Or, do you think you have storm damage? A great first step is a roof inspection of your home in Angier. We have inspected thousands of homes in Angier and have the experience to recommend the best path forward for your situation.
After one of our professional roofers performs a roof inspection, we'll consult with you on the best solution. If we feel a repair is the right thing to do, we won't try to sell you on a replacement. If we feel a replacement is best, we'll work with you to find the right roofing system for your needs.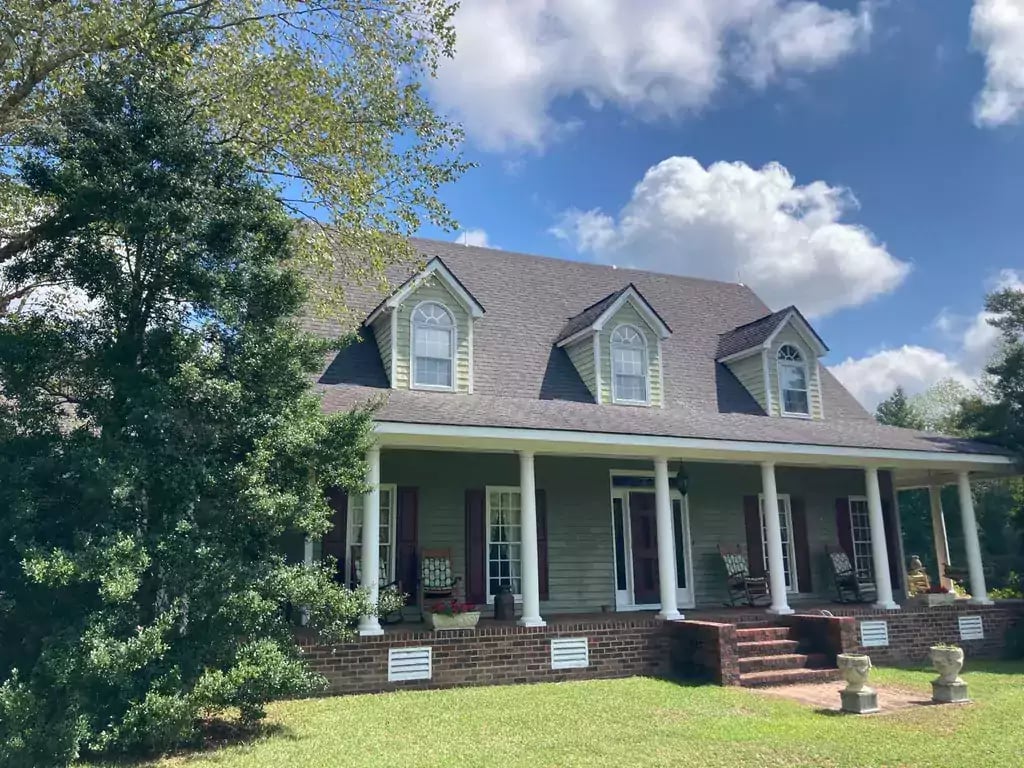 Want to learn more about your roof?
Take a look at the latest from our learning center. You'll find plenty of content tailored to North Carolina homeowners, particularly those in Angier, Harnett County and the surrounding areas.
How can we help?
Contact us today for a roof inspection in Angier.
We'll send one of our professionally trained Angier roofing specialists to completely review the condition of your roofing system. Next, we'll present you with options in a no-pressure consultative approach.